Join the club
The International Military Historical Club Legio X Fretensis - "Tenth legion of the Strait" is the first antiquity reenactment club in modern Russia. We reenact Ancient Rome from the end of the 1st century BCE to the the beginning of the 2nd century CE. We have been operational in Russia and the CIS countries since 1991!
You can try out this new hobby - just fill in a small form, take a picture of it and contact us via social networks. You can also write directly to our manager Anton Evseenkov (more contacts on the bottom of the page), he will promptly guide you how to start.
The Tenth Legion is not only about legionnaires, other Roman military units and army. We reenact all aspects of antiquity life - ordinary Empire citizens, patricians, matrons, priests, as well as enemies and allies of Rome - the Germans, the Celts, the Greeks. Everyone can find something to their liking!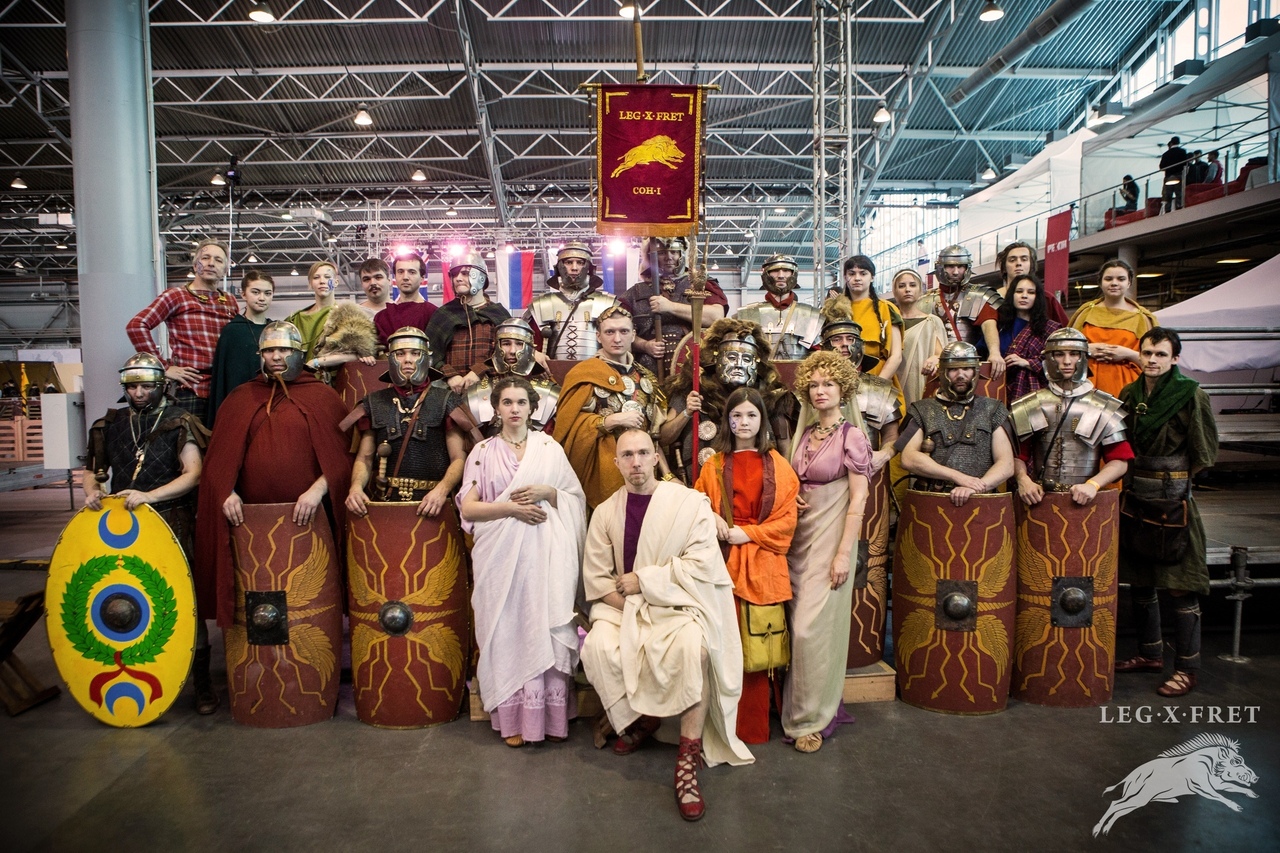 And for those who are in thoughts, we are going to write below in details about out hobby from the point of view of participant, not just a viewer.
The club's activities are way greater than it might seem at first glance. The Tenth Legion is not a just like-minded community, it's friends united by a common desire to accomplish ambitious deeds together.
The main activities of the club concern classic reenactment maneuvers and festivals, where we act both, as participants and as organizers. We may have the following activities:
Military clashes. They have preliminary scenarios, rules for fights. You can also participate in checkpoint capture and camp life.
Hiking trips. Severe endurance tests. Action takes in a remote area, with a small trace of human activity. You can test your vigor among reliable mates.
Tournaments. These are group and individual fights with judging, annual competitions, and so on. Rewards and glory await for the brave!
Festivals. Club activities aimed at working with the audience. We tell the audience not only about ourselves, but also about the history. Enlightenment is a great mission. And how else new people would know about us without it?
Sometimes, we have even more interesting events. For example, how do you like a combined group holiday at the sea with a historical camp and an archaeological expedition? Or what about a trip abroad to international festivals and visits to incredible historical sites?
Historical reenactment can be an extremely active hobby, of course, if a person desires. Our club has a constant training sessions teaching sword mastering , shield mastering, spear mastering, bow mastering, pilum mastering, the combat basics and Latin language. We carry out a "Scientific work" to source out archaeological findings to develop our own reenactment kit, as well as we individually produce clothes and household items. And if you don't have enough time for this — it isn't a big deal, experienced masters of the craft can always help. You can devote as much time as you want for reenactment, it's such a hobby where there is no need to sacrifice you job or family life.
Apart form military engagements, our club has a lot of room for creativity: we also reenact antique crafts and arts. Everyone can find something for his liking, because antiquity is incredibly diverse. And it's way easier to get started than it sounds — our tips and instructions will help you.
It doesn't matter where you are from — we have divisions throughout Russia and even abroad. The biggest divisions are in Saint Petersburg and Moscow.
Join the Tenth Legion and start your journey into antiquity!
You can download the form for joining the club: joining form. pdf Law book to study: Kodex_2021_LXF.pdf