Saccus
Saccus (Latin: saccus or sacculus) is a common name for Roman bags and sacks. All the whole sacculae found were made of leather, but most likely there were also bags made of cloth. In Egypt and Judea, for example, many pieces of cloth were found, but none of them were preserved well enough to definitely say that it was a bag. Saccuses were most likely used for carrying small household items and food supplies.
Separately, there is a subtype of saccus for storing money and jewelry, the Roman version of the purse- krumina.
Reconstruction
It is not difficult to guess that bags were used not only by the ancient Romans: this item of everyday life was known in Greece, and probably in any other ancient civilizations. In historical reconstruction, it is recommended to make bags and bags made of leather, but you can also sew fabric bags made of linen or wool. Archaeological findings suggest that the geometry of the bags was primitive, and the sizes were diverse.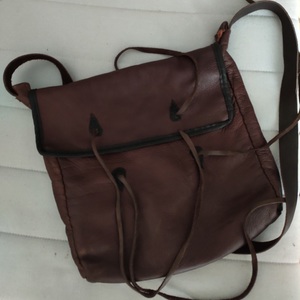 Related topics

Gallery