Celtic headwear
Women's cap
The Celtic female headdress has survived to this day. A 25-30-year-old woman found in a burial site in Bredmose, Himmerland, had a very elaborate hairstyle, which was covered with a cap woven in the sprang technique. This archaic technique of semi-weaving, which preceded knitting, allows you to create a canvas that is characterized by great elasticity.
Hood
It is known that the Celts wore an elongated hood that covered the head and shoulders. Its Celtic name has not been preserved, so it is customary to call this headdress with the Latin word cucullus (cuculus or cucullius). Such capes are found in the Danish marshes (Krogens Mølle, Vendsyssel, Oster Torslev) and on the Orkney Islands (Orkney hood). Thorsberg is made of leather and dates from around the 4th century AD. The Orkney cowl is older than the Thorsberg cowl, dates back to 250-615 AD, and is made of woolen cloth and decorated with braid and long fringe plaited on the boards.
Bas-reliefs and figurines depicting people in cuculus, which could reach a considerable length and rather resemble a cloak, have survived to this day .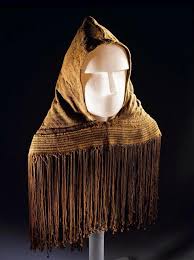 An Iron Age hood found on the Orkney Islands. National Museum of Scotland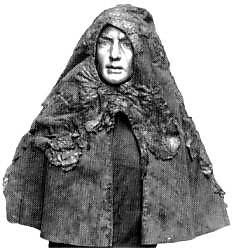 Fur cape from Krogens Mølle, sketch by Margaret Hald
Related topics
The Celts, Liner, Headwear, Celtic cloaks
Gallery