Cardiophylaxis
Kardiofilaks (Latin: Kardiofilaks) Cardiophylax or Kardiophylakès — - an antique chest armor, primarily protecting the area around the heart, from which it got its name. As a rule, a cardioflax consists of one or two metal parts: one protects the torso, and the other protects the back. The parts were held together by leather straps.
This type of body protection was mainly used by the inhabitants of the Italian peninsula, where it appeared before the 7th century BC. Similar armor existed in the Middle East and consisted of two round breast plates, which may indicate its distribution among the troops of Urartu from the ninth century BC.
Subsequently, cardiophylax approaches real bibs, increasing in size and acquiring a relief in the form of a stylized human torso.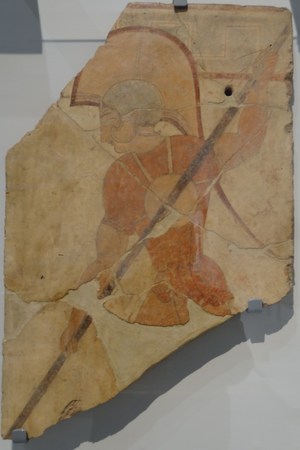 Pzdnee cardiofilax leaves the armament of the Italian peoples, giving way to more effective armor, such as lorica musculata (which is essentially the development of cardiophylaxis), lorica hamata and lorica squamata. It remains in service only with gladiators, in particular - with provocateurs, for whom it becomes a mandatory part of equipment. It should be noted that there were two types of cardiophylaxis-single-plate and scaly.
Related topics
Gladiator, The provocateur, Lorica Musculata, Lorica Segmentata, Lorica Squamata, Lorica Hamata
Literature
Katrien Maes, Maria Luisa Nava, Stele Daunie. I., L'antiquité classique, Tome 53, p. 547-549, 1984.
Frank Van Wonterghem, Raffaella Papi, Dischi-corazza abruzzesi a decorazione geometrica nei musei italiani., Compte rendu, L'antiquité classique, Tome 62, p. 554-555, 1993.
Bloch Raymond. Matériel villanovien et étrusque archaïque du Musée du Louvre. In: Monuments et mémoires de la Fondation Eugène Piot, tome 59, 1974. p. 45-70.
F. De Backer, Un plastron d'époque assyrienne, Res Antiquae, no 9, p. 221-230, 2012.