Gladiator
Gladiator (Lat. gladiator - "swordsman", from gladius — "sword") - a fighter in Ancient Rome, who fought with the likes of himself for the amusement of the public in special arenas. Despite the name, gladiators could be not only warriors using a sword, but also spearmen, trident bearers, etc.
The main reason for the emergence of gladiatorial games historians consider borrowed from the Etruscans funeral rite. Possible victims of human sacrifice could be not only slaves, but also free people who fought with swords in their hands near the grave. As a result, the strongest survived, and the weakest died, and this ceremony caused the delight of those present. Perhaps it was the love of this rite that provoked the appearance of gladiatorial games.
There is also another, Campanian version of their origin. It is based on frescoes from Campania that depict a religious and ceremonial custom, as well as references to such games in Titus Livy. The version is that in ancient times, over the coffin of a deceased noble warrior, it was customary to kill captured enemies, sacrificing them to the gods of the underworld. Later, probably, these cruel sacrifices were transformed into ritual fights of warriors with gladiuses. The first gladiators were called bustuarii (from " bustum – - a bonfire on which the body of the deceased was burned). This shows the initial connection of the gladiatorial games (munera) with funerary celebrations, in honor of which the earliest recorded Roman pageants were organized in 264 BC.e. They were timed to coincide with the funeral of Lucius Junius Brutus. Over time, gladiator games began to be organized on other occasions, for example, in honor of religious holidays.
Many slaves voluntarily tried to get into the gladiator school, as it was a way for them to earn their freedom. At the gladiator school, beginners were expected to undergo harsh training, and many could not cope with the heavy load. Gladiators who performed well in the arena were given the wooden sword rudis, and they ceased to be slaves, and found freedom. Many of these gladiators did not leave the arena, but continued to fight already free. It brought money, fame and adrenaline, which many lacked.
In 105 BC, gladiatorial games were introduced as a public spectacle. Since then, the State has taken control of this aspect of society's life and entrusted its magistrates with the responsibility of organizing the games. Gladiatorial games are becoming the favorite spectacle of the entire Roman state. This feature was often used by politicians who wanted to run for public office to gain support from the people. Caesar in 65 BC organized the games, which were attended by 320 pairs of gladiators. Such a broad gesture greatly frightened his political opponents. Luxury games have become a surefire way to win the favor of the people in the shortest possible time and secure votes in elections. Cicero in 63 BC. e. because of the actions of Caesar, proposed to pass a law prohibiting a candidate for magistracy for two years before the election to arrange gladiatorial games. However, no one could prohibit a private person from organizing them under the pretext of a memorial service for his relative, especially if the latter had bequeathed to his heir to arrange games, which served as one of the formal ways to circumvent the ban.

Zliten mosaic from Libya (Leptis Magna). 2nd century AD
Classification of gladiators
The most common types of gladiators:
Bestiary (Latin: bestiarius). Fought in the arena against animals. The name comes from the Latin word "bestia", which means" beast","animal". The very first bestiaries were poorly armed or completely unarmed. Initially, the execution of criminals sentenced to death was carried out through harassment by predators. In the future, bestiaries received special training in schools-bestiariorum (scholae bestiarum or bestiariorum), had equipment and fought for money.
Dimacher (Latin: dimachaerus). The name dimachaerus literally means "with two swords", "dvoemechnik" (from the Greek διμάχαιρος). Diemacher wore a helmet, short greaves, and a hamata lorica. He could arm himself with various cold weapons: siks, gladiuses, pugios.
Equit (Lat. eques - "rider"). He fought on horseback, armed with gasta, sword and parma. The main feature of equites is that unlike most other gladiators, who fought naked to the waist, Equites wore tunics, over which they wore the classic gladiator balteus. In battle, Equites usually threw a spear first, then dismounted and continued the fight. They usually fought among themselves.
Hoplomachus (Latin hoplomachus). He was armed with a spear and shield. With his equipment, he imitated Greek hoplites, presenting their images in the arena. The equipment consisted of a helmet decorated with feathers, a hybrid shield and a hoplon made from a single sheet of thick bronze, high greaves,and a manica. Hoplomakh used pugio as the main weapon, and pugio as an auxiliary weapon. Most often, he fought with murmillons or other gladiator swordsmen.
Murmillon (Latin: murmillo - "fish"). It was equipped with a gladius (40-50 cm in length) and a slightly smaller version of the scutum. Murmillons wore a Type III gladiator helmet with wide perimeter shields and a crest. Sometimes the crest and temples of the helmet were decorated with feathers. Murmillon also wore a manica, greave, subligaculum, and balteus. The weight of the equipment was 12-18 kg. The main opponents of the Murmillons were Thracians and Retiarii, as evidenced by pictorial and written sources. They also sometimes spoke out against hoplomakhs and provocateurs.
Provocateur (Lat. provocator – "challenging"). They were depicted wearing a loincloth, a belt, a short greave on the left leg, a manika, and a helmet with a visor, without a brim or crest. They were armed with a gladius and a shield similar to the scutum, which could be slightly shorter than that of legionnaires. The provocateur's chest was protected by a scaly or lamellar cardiophylaxis. It should be noted that such body protection was rare among gladiators. The provocateur's equipment weighed 10-15 kg. There is evidence of battles with Samnites, Murmillons, and other provocateurs.
Retiarius – Latin: "fighter with a network"). An ancient Roman gladiator armed with a net and trident. Literally, its name means "fighter with a grid","netter". Retiarius was wearing a manica with a scapular, subligaculum,and balteus. Armament consisted of a trident( tridens), a net (rete, retia) and a dagger-pugio on the belt. To finish off a defeated opponent, the retiarius could use a quadrenx-a four-pointed fork. Since one of the main weapons of the gladiator was throwing (grid), it was sometimes called "yakulatorator" (iaculator, jaculator), that is, "thrower".
Secutor (Lat. secutor-stalker). Secutor was also called contraretiarius ("opponent of the retiarius") or contrarete ("against the network"). Sometimes historians call the secutors a type of murmillon, as they were similarly equipped, and the main difference was in the helmet, which also covered the entire face of the secutors, but did not have nets on the eye sockets. Still, it was enough, even for defense against the trident. The helmet was almost round and smooth, so that the net of the retiarius could not catch on it. Like all other gladiators, the secutor wore a subligaculum and baltei. Up until the Late Empire, the secutor was the most popular type of gladiator.
Scissor (Lat. scissor - "the one who cuts", "cutting"). He was armed with a gladius and a special crescent-shaped wrist knife. The name of the gladiator comes from the word scindo ("I cut", "I shred"). The second name, Arbelas, is mentioned by the ancient Greek writer Artemidorus of Daldia in his treatise Oneirokritika. Perhaps it comes from the ancient Greek wordρρβηλος, which meant a shoemaker's knife in the shape of a crescent moon, which a gladiator held in his left hand instead of a shield. With this weapon, he inflicted shallow, but heavily bleeding wounds on the enemy. In addition to the knife, Scissor was armed with a gladius or pugio, which he held in his right hand. The fighter was protected by a closed helmet, plate armor, manika and short greaves. Scissor, like Diemacher, was not armed with a shield.
Thracian (Lat. thraex). Thracians wore a subligaculum, balteus, manica, a large closed helmet decorated with a crest and a griffin, which was the symbol of the goddess of Nemesis ' retribution, as well as a small shield and two large greaves. Their weapon was a gladius or small Thracian curved sword — sika, which was a treacherous weapon, because it allowed you to unexpectedly cut the weakly protected reverse parts of the arms and legs, as well as bypass the opponent's shield with blows. Many historians consider Thracians, like Secutors, to be a subspecies of Murmillon. Most often in the arena, they fought murmillons, hoplomachs, provocateurs, retiarii or secutors.
Rare types of gladiators that little is known about:
Velit (Lat. veles — - a gladiator armed with throwing gasts (javelins). Velite gladiators followed the armament and tactics of the ancient Roman Velite light infantry, after which they were named. No images of the Velites have been preserved, so little is known about their equipment.
Gallus (Latin: Gallus). They were equipped with a spear, helmet and a small Gallic shield. They quickly disappeared as a species, transforming into Murmillons, which were just recruited from the Gauls, and the hoplomachs occupied the niche of spearmen in the arena.
Laquearius (Latin: laquearius). Lakvearii could be a type of retiarii that tried to catch their opponents with a lasso (laqueus) instead of a net.
Pegniarius (Latin: paegniarius). They used a whip, a club, and a shield that was strapped to the left arm.
Krupellarii (Latin: crupellarius). A type of the most heavily armed gladiator, whose armor consisted of a lorica segmentata, two manikas (one on each arm) and high segmental greaves up to the hips. In terms of the degree of protection, krupellarius surpassed not only other gladiators of that period, but also in general any ancient warrior.
Sagittarius (Latin: sagittarius). Archers armed with a flexible bow that can launch an arrow at long range.
Samnite (Latin: samnis). Samnites are an ancient type of heavy-armed fighters that disappeared in the early imperial period. The historical Samnites were an influential alliance of Italian tribes living in the Campania region, south of Rome, against which the Romans fought wars between 326 and 291 BC. e. The equipment of the Samnite gladiators was a scutum, a feathered helmet, a short sword, and possibly a greave on the left leg.
Essedary (Latin: essedarius). Gladiator fighting on a chariot, the name comes from the Latin word for Celtic chariot — esseda. Perhaps the essedarii were first brought to Rome by Julius Caesar from Gaul. They are mentioned in many descriptions dating back to the 1st century AD. Since there are no surviving images of the Essedarii, nothing is known about their weapons and fighting style, but it is assumed that they were equipped similarly to equites.
Specific types of gladiators:
Gladiatrix. Women gladiators. There were the same types of gladiatrix, equipped in the same way as male gladiators.
Andabat (from the Greek word "αναβαται" — "raised, located on a high place"). Gladiators fighting each other blindly or almost blindly. They wore helmets with visors without slits for the eyes. Sometimes they had small slits in their helmets so that the Andabats could see more than just the sound.
Bustuarius (Latin: bustuarius). These gladiators fought in honor of the deceased at the ritual games during the funeral rite.
Rudiarius (Latin: rudiarius). Gladiators who earned their release (awarded with a wooden sword called rudis) but chose to remain gladiators. Not all rudiaries continued to fight in the arena, but there was a special hierarchy among them: they could be trainers, assistants, judges, fighters, etc. Rudimentary fighters were very popular with the public, as they had a lot of experience, and you could expect a real show from them.
Tertiarium (Latin: tertiarius). In some competitions, three gladiators participated. First, the first two fought each other, then the winner of this fight fought with the third, who was called tertiarius. Tertiaries were also substituted if the gladiator announced for the fight could not enter the arena for one reason or another. Therefore, they had another name "suppositicius" — "substitutes".
Venator (Latin: venator). They specialized in demonstration hunting of animals, but did not fight them in close combat, unlike bestiaries. Venators often performed tricks with animals: putting their hand in the lion's mouth; riding a camel with lions on a leash; making an elephant walk on a tightrope (Seneca Ep. 85.41). Strictly speaking, Venators were not gladiators, but their performances were part of gladiatorial fights.
Equipment
The equipment of gladiators, depending on their type, was very different, but the following elements can be distinguished, which are particularly common::
Helmet. It should be noted that for each type of gladiator, the helmets could be very different
Okrea. Greaves were of two types - short and long (above the knees). Many types of gladiators only wore them on one leg.
Case protection. Most often, gladiators performed with a bare torso, but in rare cases they could wear cardiophylax, chain mail, squamata and even segmentata.
Reconstruction
Before you start reconstructing the image of a gladiator, you need to choose its type, so as not to build an "abstract" gladiator. Gladiator images are no less expensive than legionnaires', and the main cost of the kit is a helmet due to the complexity of production. It should be noted that gladiators did not use shoes during battles, but due to the fact that sand arenas are quite rare at modern events, it is permissible to make kaligs for yourself as a stylization element . Thus, the minimum gladiator kit that any type needs will include the subligaculum, balteus, and kaligi. Other elements should be selected depending on the type of reconstructed gladiator. The least financially expensive sets will depict gladiators who do not use a helmet, such as retiarii. However, when choosing a gladiator type, we advise you to rely on your preferences in offensive weapons, and not on the complexity of reproducing the image. If you are a classic swordsman, then secutor, murmillon, Thracian, provocateur are best suited. If you are a spearman, then hoplomakh. If you like to hit with two hands – then dimacher or scissor. It is also not recommended to start reconstructing gladiator types that are not well known. It is best to focus on the classic images described in the section "The most common types of gladiators".
Related topics
Gladius, Balteus, Manika, Okrea, Subligaculum, Shild, The provocateur, Krupellary
Literature
Gladiators-Konstantin Nosov. pdf
Arena and Blood - Goroncharovsky.pdf
Goroncharovsky V. A. Arena and Blood: Roman Gladiators between Life and Death. - St. Petersburg: Peterburgskoe Vostokovedenie, 2009. - 256 p. - (Militaria Antiqua). — 2000 copies. — ISBN 978-5-85803-393-6.
Losev A. F. Gladiators / / Hellenistic-Roman aesthetics of the I-II centuries A.D.-Moscow: MSU Publishing House, 1979. - pp. 45-55.
Matthews Rupert. Gladiators / Translated from English by N. V. Mikelishvili. - Moscow: Mir knigi, 2006. - 320 p.: ill. - ISBN 5-486-00803-1.
Paolucci Fabrizio. Gladiators. Doomed to death / Translated from Italian-M.: Niola-Press, 2010. - 128 p.: ill. — (Secrets of history). — ISBN 978-5-366-00578-4.
Hoefling Helmut. Romans, slaves, gladiators: Spartacus at the Gates of Rome / Translated from German, afterword. and comm. by E. V. Lyapustina. - Moscow: Mysl, 1992. - 270 p.: ill. - ISBN 5-244-00596-0.
Junkelmann, Marcus. Familia Gladiatoria: The Heroes of the Amphitheatre // Gladiators and Caesars: The Power of Spectacle in Ancient Rome / Eckart Köhne, Cornelia Ewigleben, Ralph Jackson. — Berkeley — Los Angeles: University of California Press, 2000. — P. 31—74. — 153 p. — ISBN 0520227980.
Wisdom, Stephen. Gladiators: 100 BC–AD 200. — Osprey Publishing, 2001. — 64 p. — ISBN 9781841762999.
Nossov, Konstantin. Gladiator: Rome's bloody spectacle. — Osprey Publishing, 2009. — 208 p. — ISBN 9781846034725.

Gallery



Mosaics and frescoes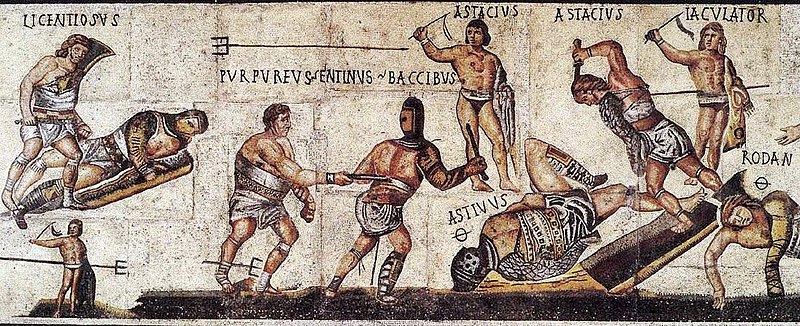 Mosaic with gladiators from Villa Borghese. 3rd century AD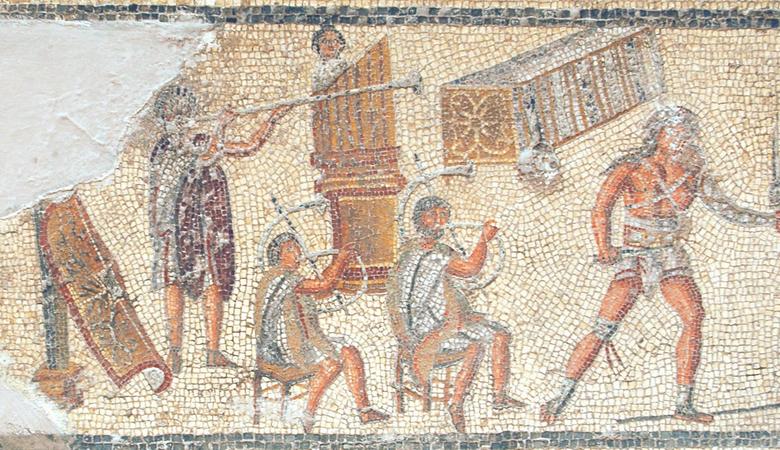 Mosaic with gladiators. Dar Buc Ammera Villa. Tripoli National Museum. Second half of the 1st century AD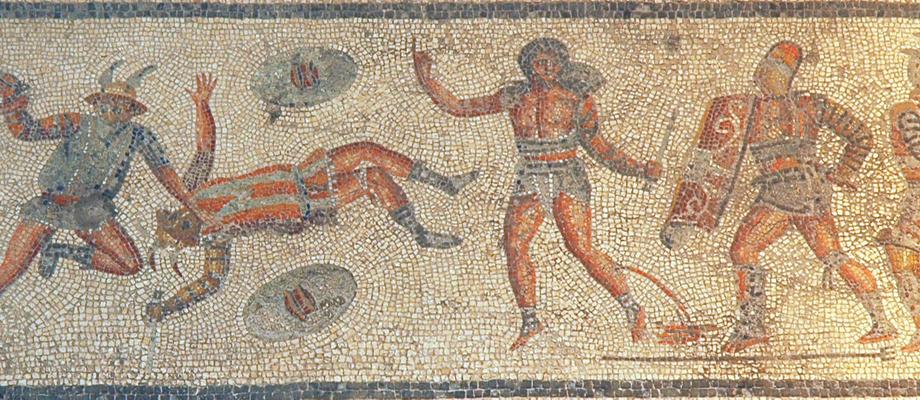 Mosaic with gladiators. Dar Buc Ammera Villa. Tripoli National Museum. Second half of the 1st century AD

Mosaic with gladiators. 1-3 century AD

Mosaic with gladiators. Dar Buc Ammera Villa. Tripoli National Museum. Second half of the 1st century AD

Bas-reliefs



Bas-relief in honor of the gladiator games in the city of Teate (Chieti). Colosseum Alley, Rome, AD 20-40

Bas-relief in honor of the gladiator games in the city of Teate (Chieti). Colosseum Alley, Rome, AD 20-40

Bas-relief in honor of the gladiator games in the city of Teate (Chieti). Colosseum Alley, Rome, AD 20-40

Bas-relief of bustiarii from Amitern. 3-2 century BC

Bas-relief with gladiators. 1-2 century AD

Glass products with gladiators



Figurines



Oil lamps with gladiators