Samnite Gladiator
Samnites (Latin: samnis) — an ancient Roman gladiator of the Republic, at one time one of the most popular types of gladiators. Initially, the so-called gladiators-natives of the peoples of the Italian Peninsula-region Samnium, conquered by the Romans in the 3rd century BC.
The appearance of such gladiators partially inherited elements of the national Samnite equipment. As with other gladiators, the Samnites were required to wear the subligaculum and balteus. They wore a closed helmet that protected the face, with "winged crests" on the sides, the helmet was the main distinguishing feature of Samnite clothing. The gladiator's shield was oval or rectangular, the Samnites wore greaves on their feet , protected their hands with manikami, and used the gladius sword as their main weapon .
Samnite Equipment:
Traditionally, gladiators fought on sand, but when reconstructing the battle on a hard surface, it is recommended to use authentic shoes, such as kaligs.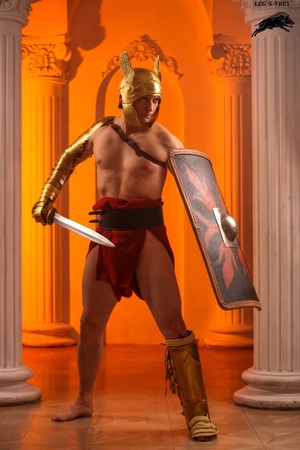 Related topics
Gladiators, Greaves, Manika, Sublicaculum, Balteus, Gladius, Samnite Wars

Gallery