Cingulum
Cingulum (Latin: cingulum militare) is a Roman military belt decorated with metal plates. It was one of the signs of belonging to the military class ("Who wore this belt, was a soldier" — "Omnes qui militant, cincti sunt", Moor Servius Honoratus). The belt was a symbol of the legionnaire's honor and could be withdrawn for official crimes and misdemeanors, which was considered a disgrace for a warrior. Also, cingulum was a mandatory part of the legionnaire's equipment and was often worn together with suspensions. The belt had not only symbolic and traditional functions, but also practical ones: the cingulum made it possible to secure the armor itself, gladius and pugio more securely on the human body. Sometimes purses or other personal items were attached to the belt. Interestingly, during the early Empire period, several cingulums could be worn-one under the other or crosswise. In addition to the legionnaires, the auxilia warriors wore cingulum .
A suspensorium is a set of leather strips with metal plates that was attached to the cingulum. The type of suspensions depended on the warrior's rank and time period. The number of leather bands varied from 3 to 8. At the beginning of the second century AD, their length began to decrease, and later suspensories were no longer included in the traditional legionnaire's equipment set . Interestingly, as officers advanced through the ranks, starting with centurions, they stopped wearing suspensions. Legates and other senior officers no longer even used cingulum, instead wearing cloth bandages over their armor.
Reconstruction
Evidence of the use of cingulum by soldiers of the Roman Empire is mainly provided by numerous bas-reliefs. High detail allows you to often determine not only the very fact of the presence of cingulum, but also its type, number of suspensions, patterns and other characteristics. In combination with archaeological finds, the following components can be identified: leather base, metal plates both on the balteus itself and on suspensions, metal tips on suspensions, belt buckles for attaching the belt, special fasteners for buttons. Plates and ornaments on suspensions are usually attached to a leather base. It should also be noted that the most frequent material of archaeological finds is brass, but there are also metals and their alloys. Often, in addition to chased jewelry, there are silver and gold coatings.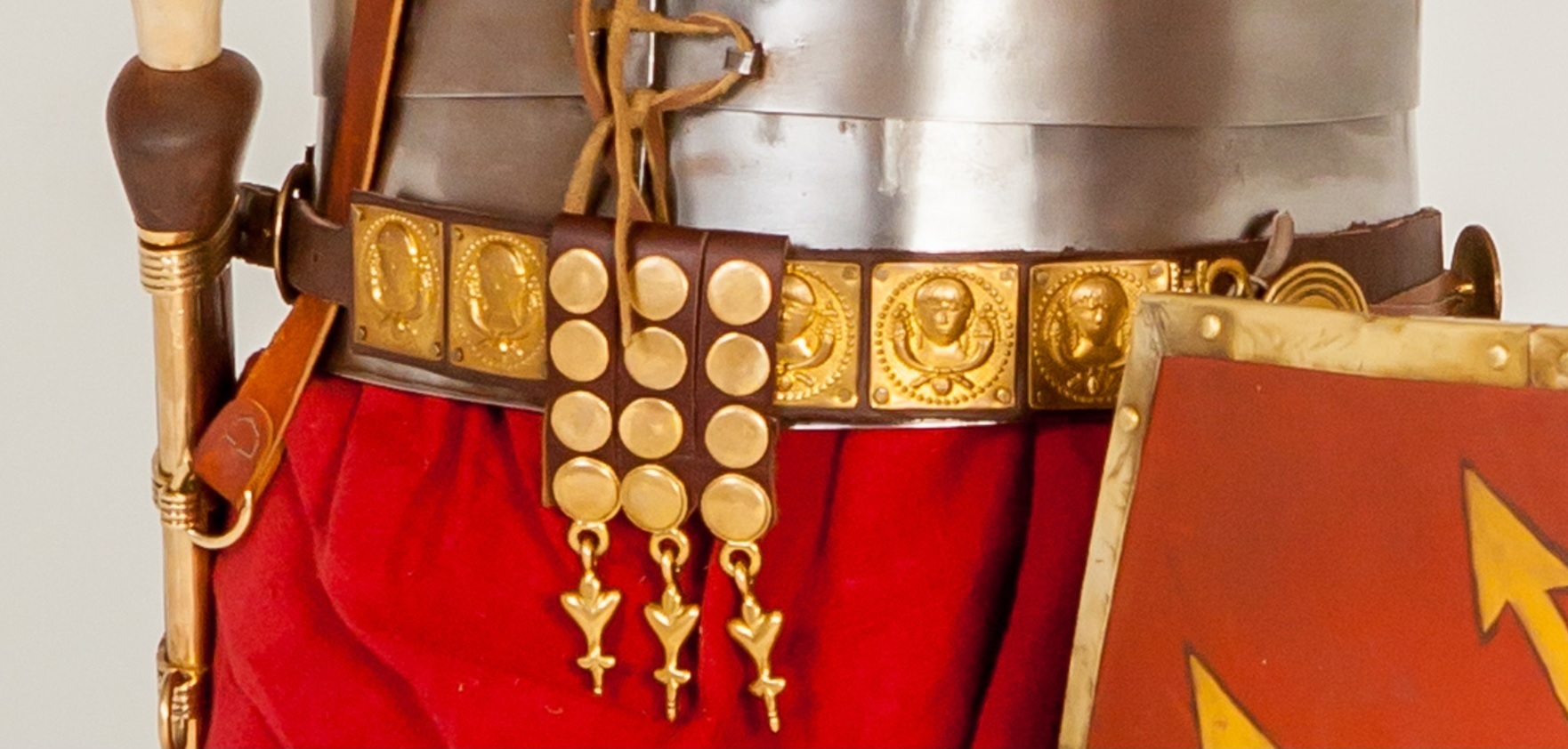 cingulum with three suspensions, reconstruction
Literature
Roman Military Equipment In Croatia, Ivan Radman-Livaja et al., 2010
The Roman Military Belt, Stefanie Hoss, published in: Koefoed, H., M.-L. Nosch (eds), Wearing the Cloak. Dressing the Soldier in Roman Times. Ancient Textiles Series vol. 10, Oxford 2011, 29-44.
Related topics
Legionnaire, Balteus, Auxiliaries, Centurion, Legate

Gallery