Celtic Belt
Among the Celtic peoples, the belt was widely distributed as an element of clothing, and it was both practical and decorative-status in nature. It was used by both men and women for belting clothes- trousers, shirts, peplos. There were several types of belts - leather belts with a buckle, similar in principle to a button. Men may have worn two belts at once: one for belting trousers, and the second was worn over a shirt.
For warriors, the belt could be located on top of the chain mail for attaching the sword. Moreover, on the pictorial sources you can notice another type of leather belts - not with a button fastening, but with a classic buckle. An example is the statue of the Gallic warrior "Guerrier de Vacheres" in chain mail with a belt. Calvert - Avignon-F Museum. 1st century BC
There are also finds of bronze belts, similar to chains. Most likely, they were not widely distributed, but were of a status nature.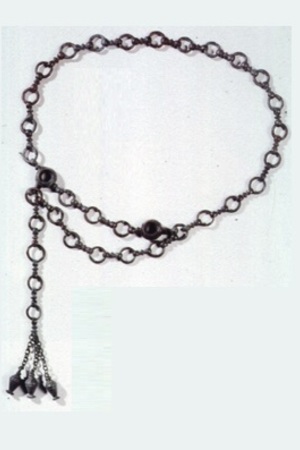 Women could also wear bronze belts and plaited ones on plaques. Unlike bronze belts, cloth belts could be used by anyone.
Belts were not a characteristic feature of the Celts, but were distributed throughout the ancient peoples of Europe. For example, belts were widely used by the Greeks and Romans, the latter of whom called it balteus.
Related topics