The Emperors of Rome
The first emperor (in the modern sense) of Rome was Octavian Augustus: after defeating Mark Antony and returning from Egypt, he staged a triumph and on January 13, 27 BC. e. resigned his extraordinary powers before the Senate and announced the restoration of the Republic, but retained command of 75 legions and the title of emperor as a permanent praenomen.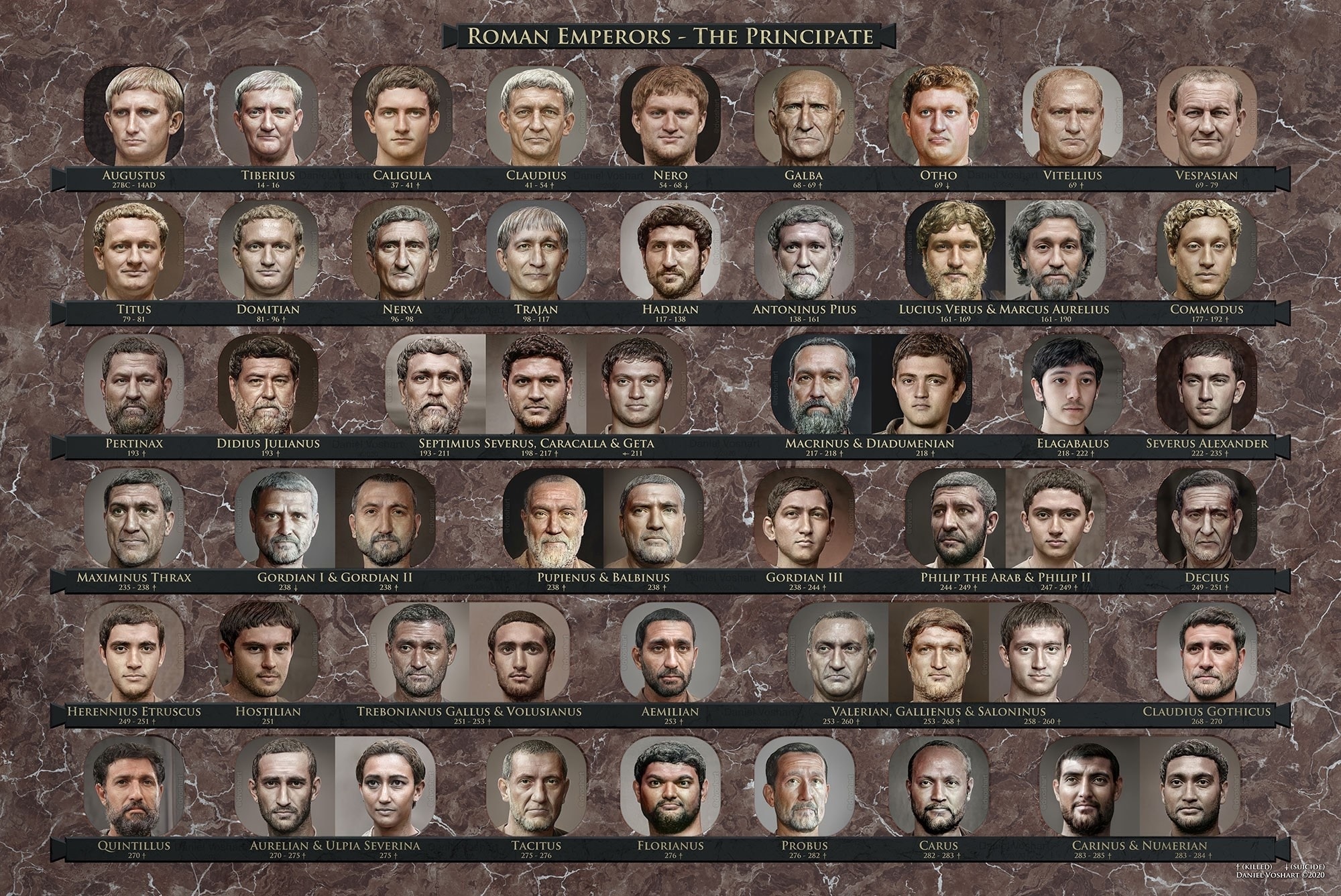 List of Emperors
Julia-Claudia
Octavian Augustus, Lat. Gaius Iulius Caesar Octavianus (16 January 27 BC - 19 August 14 AD)
Tiberius, Lat. Tiberius Iulius Caesar Augustus (August 19, 14 AD— March 16, 37 AD)
Clement, lat. Clemens, full name not preserved (impostor, tried to impersonate the emperor in 16 AD, but was captured and executed)
Caligula, Lat. Gaius Iulius Caesar Augustus Germanicus (March 18, 37-January 24, 41) , Caesar and heir of Tiberius from AD 31, stabbed to death by conspirators led by Cassius Chaerea.
Claudius, lat. Tiberius Claudius Caesar Augustus Germanicus (24 January 41-13 October 54, poisoned by his wife Agrippina the Younger)
Scribonian, Lat. Lucius Arruntius Camillus Scribonianus (41, committed suicide)
Nero, Lat. Nero Claudius Caesar Drusus Germanicus (13 October 54-9 June 68, committed suicide after the transfer of power to Galba)
Macr, lat. Lucius Clodius Macer (spring-autumn 68, killed)
The First Interregnum
Galba, lat. Servius Galba Imperator Caesar Augustus (6 June 68-15 January 69, killed by Otho's followers)
Othon, lat. Marcus Otho Caesar Augustus (15 January-16 April 69, killed himself after being defeated by Vitellius ' forces)
Vitellius, Lat. Aulus Vitellius Germanicus Augustus (17 April-20 December 69, killed after being defeated by Vespasian's forces)
Flavia
Vespasian, Lat. Titus Flavius Caesar Vespasianus Augustus (1 July 69-24 June 79)
Julius Sabinus, Latin. Gaius (?) Iulius Sabinus (69-70, captured and executed)
Titus, Lat. Titus Flavius Caesar Vespasianus Augustus (24 June 79-13 September 81, Caesar c 69)
Maxim Terentiy, Latin: Terentius Maximus (79—80)
Domitian, Lat. Titus Flavius Caesar Domitianus Augustus (September 14, 81-September 18, 96, Caesar from 69;)
The Antonines
Nerve, lat. Marcus Cocceius Nerva Caesar Augustus (18 September 96-27 January 98)
Trajan, Lat. Caesar Nerva Traianus Augustus (28 January 98-8/9 August 117)
Adrian, lat. Caesar Publius Aelius Traianus Hadrianus Augustus (11 August 117-10 July 138)
Antoninus Pius, Lat. Caesar Titus Aelius Hadrianus Antoninus Augustus (10 July 138-7 March 161)
Lucius Verus, Lat. Caesar Lucius Aurelius Verus Augustus (7 March 161-March 169, co-authored with Marcus Aurelius)
Marcus Aurelius, Lat. Caesar Marcus Aurelius Antoninus Augustus (7 March 161-March 169, co-ruled with Lucius Verus, March 169 — 17 March 180, made sole co-ruler of his son Commodus from 177)
Commodus, lat. Caesar Lucius Aelius Aurelius Commodus Augustus (17 March 180-31 December 192, co-ruler of Marcus Aurelius from 177; strangled in a conspiracy by the slave Narcissus)
Second Interregnum
Pertinax, lat. Caesar Publius Helvius Pertinax Augustus (1 January-28 March 193, killed by the Praetorians)
Didius Iulianus, Latin: Didius Iulianus. Caesar Marcus Didius Severus Iulianus Augustus (28 March - 1 June 193, after Septimius Severus ' forces advanced on Rome, was deposed by the Senate and sentenced to death)
Pescennius Niger, Lat. Gaius Pescennius Niger (193-194 in Syria and Egypt, killed)
Clodius Albinus, Latin. Decimus Clodius Septimius Albinus (196-19 February 197 (in Britain and Spain), after losing the battle with Septimius Severus committed suicide)
Severy
Septimius Severus, Latin. Caesar Lucius Septimius Severus Pertinax Augustus (9 April 193-4 February 211, with 198 made co-ruler of the son of Caracalla, with 209-son of Geta)
Caracalla, Latin. Caesar Marcus Aurelius Severus Antoninus Pius Augustus (from 198 co-ruler of Father Septimius Severus; from 209 co-ruler of Father Septimius Severus and brother Geta; February 4-December 26, 211 co-ruler of brother Geta; December 26, 211-April 8, 217 alone; killed as a result of the plot of Macrinus)
Geta, Lat. Caesar Publius Septimius Geta Augustus (from 209 co-ruler of father Septimius Severus and brother of Caracalla; 4 February 211-26 December 211 co-ruler of brother Caracalla, who killed him)
Makrin, Lat. Caesar Marcus Opellius Severus Macrinus Augustus (11 April 217-8 June 218, co-ruled with his son Diadoumenos, was killed after being defeated by Elagabalus ' forces)
Diadumen, Lat. Marcus Opellius Antoninus Diadumenianus (11 April 217-8 June 218, co-ruled with Father Macrinus, fled after being defeated by Elagabalus ' forces, and was later killed)
Elagabalus, Latin. Caesar Marcus Aurelius Antoninus Augustus (8 June 218-11 March 222, killed by the Praetorians after his failed attempt to assassinate Alexander Severus)
Alexander Sever, Lat. Caesar Marcus Aurelius Severus Alexander Augustus (13 March 222-19 March 235 killed with his mother Julia Mamea by soldiers after Maximinus was proclaimed emperor)
This was followed by the crisis of the third century, as a result of which the Empire began to collapse. The most important post-crisis Emperors in Roman history are:
Diocletian, Lat. Caesar Gaius Aurelius Valerius Diocletianus Augustus (20 November 284-1 May 305)
Constantine I the Great, Lat. Flavius Valerius Aurelius Constantinus (July 25, 306-October 29, 312 (WC) October 29, 312-September 19, 324 (WA) September 19, 324-May 22, 337 (sole Emperor))
Related topics