Roman Legion - Legio I Macriana Liberatrix
The Legio I Macriana Liberatrix (First Legion Liberator of Macrae) was a Roman legion formed by Lucius Clodius Macrae in North Africa in 68 AD to rebel against the Emperor Nero.
Title: Legio I Macriana Liberatrix (First Legion Liberator of Macra)
Dates of existence: A.D. 68-69
Logo: unknown
Battle Path
The Legio I Macriana Liberatrix was created in 68 AD by Lucius Clodius Macer, legate of the Third Augustan Legion in North Africa, when he rebelled against the Emperor Nero and declared himself ruler of an independent kingdom.
Just as the generals of the Roman Republic, regardless of the national numbering of legions, gave them their own names and numbers, Lucius gave the new legion the name Legio I Macriana Liberatrix.
By the time of the accession, after the suicide of Nero, Emperor Galba (reigned from June 68 to January 69), the new legion was undergoing training and did not take part in any military activities. Galba, fearing Lucius Macerus ' desire to become the new Roman emperor himself, ordered Trebonius Garucianus, the procurator of Africa, to kill Lucius Macerus, who commanded two legions. Trebonius was ordered to kill Lucius Macrae, and the newly formed legion was disbanded before it even entered the fray.
It has been suggested that Galba's successor, the Emperor Vitellius (reigned from April to December 69), in dire need of troops in Africa to fight Vespasian, the new pretender to the imperial purple, called the former soldiers of the Legio I Macriana Liberatrix into the ranks and attached them to his other troops in Africa.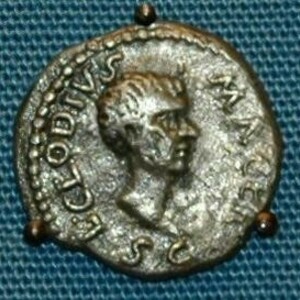 Related topics
List of Roman Legions, Legionnaire, Legion, The Roman Empire, Legio I Adiutrix, Legio I Italica, Legio I Germanica, Legio I Minervia, Legio I Parthica
Literature
1. A. Chaouza, "Legion I Macriana", in: Yann Le Bohec, Les legions de Rome sous le Haut-Empire (2000, Lyon) 369-371.
2. R. Kanya "Legion". Brief description of the history of various Roman legions.