Fabrics in antiquity
A fairly large amount of information has been preserved about the use of fabrics in antiquity, which makes it possible to correctly compose images of peoples living at that time. Much is known about both dyes and trade relations, which allow us to evaluate the possibility of coloring materials. There is also a "triad of sources" - both written and archaeological with visual ones, which allows us to give an accurate description of the density of fabrics, their drapery, weaving and colors.
Material
The most common material for fabrics in antiquity is definitely wool. Almost all finds have wool as the basis of weaving, and sheep's wool was most often used. It was the most practical and cheap material - it warmed well, was wear-resistant and best protected from adverse weather conditions.
In second place for use in clothing is flax. It should be noted that today it is considered a more expensive material to produce than wool. It was less wear-resistant, but it was possible to get a cooler and thinner material from it, which was especially useful in hot climates. In addition, the fineness of the material often gave additional opportunities for draping fabrics, which was especially appreciated by the Greeks and Romans. Flax in antiquity was most common among the Hellenic peoples.
The rarest type of fabric was silk and was rarely used in clothing, as it was an imported material bought by Rome for literally fabulous sums. With the money needed to buy a silk dress, you could buy yourself a good villa with slaves at that time, and this was considered a great waste. Only the upper echelons of the nobility could afford such a luxury, and then only on rare occasions.
Weaving
The most common weaving in antiquity was linen, consisting of fabric fibers intertwined crosswise. But there were also other types of weaving, such as "twill" and "herringbone", which were more common in the northern provinces of Rome and barbarian peoples (for example, among the Celts and Germans).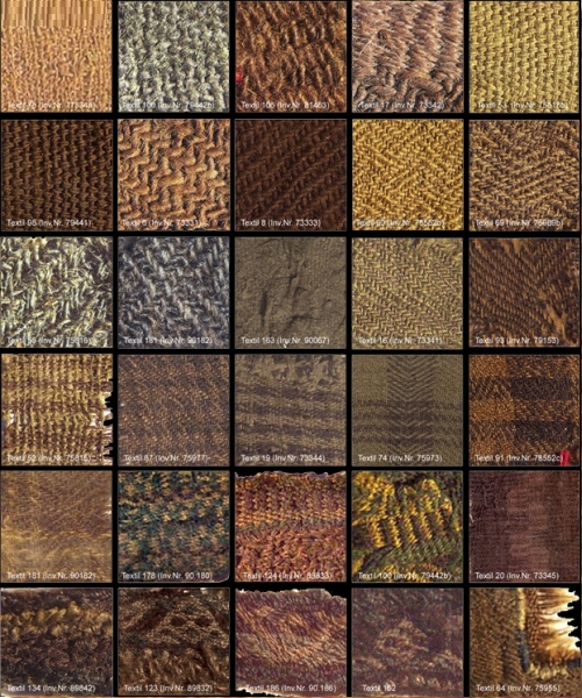 Examples of weaving Celtic fabrics
One of the most valuable archaeological treasures to find Roman fabrics can be considered mass finds in the Caves of Letters (Judea). Cave of Letters (Meרתי היגרות, Me'arat Ha'igrot) is a cave in Nahal Hever in the Judean Desert, where ancient texts have been found, some of which are related to the period of the Bar Kokhba Revolt and are estimated to be from the end of the 1st century and the beginning of the 2nd century AD.
All the fabric found there has a plain weave of wool fibers with different densities and qualities. The main color schemes are colorless, yellow, cream, white, red, blue and purple shades. Many have woven patterns of a different color (clavies and corners, as well as brands of masters). Most of the recognized finds were tunics and cloaks. It should be noted that all the samples were not sewn or embroidered patterns, namely woven. Samples from excavation No. 2.41-35 are presented below. The edge is reinforced 3 (4 4 4) 5(8 4 4 4 2 2). Warp threads 8-10/1 thick, density 11/cm. At the same time, the patterns have a denser structure - up to 20/cm. Processing the edge perpendicular to the warp threads - a rope parallel to the cut.
Fabrics from Egypt
In the ancient world of fabrics, it occupied a special place Egypt. This ancient region has maintained a leading position in both art and light textile production for a long time - both in the time of the Pharaohs, and as part of the Greek state, and as part of the Roman one. This combination made it possible to become a stronghold of the most expensive fabrics that are readily exported. Also, one of the important reasons for the development of light industry was the advanced technology of manufacturing looms. Egyptian fabrics differed in their thickness. Local craftsmen made the finest fabric in the ancient world, and it was of the highest quality. Often found and linen, and woolen segments, richly decorated with various patterns and subjects. This quality also applies to products made of wool and linen - for example, wool socks, many of which were difficult work by the standards of that time. Also, a distinctive feature of Egyptian textiles can be considered a combination of fabrics made of different materials, most often-from wool and linen.
We know a lot about the industry of Egypt due to its active trade relations with neighboring states (and later with neighboring regions within the Roman Empire), the tradition of burial in burials (many useful exhibits were found in tombs) and, most importantly, the climate, thanks to which, along with Judea, many fabric and leather products were preserved.
Staining
Depending on belonging to a particular nationality, the dyeing of fabrics in antiquity could vary greatly. The Celts were dominated by green, blue and brick shades of color, the Romans and Greeks had a greater variety in colors, which differed depending on the social stratum. To date, many finds of fabrics in white/red and blue shades are known, most of which were found in Egypt, Judea and the northern parts of the Empire, for example, in the territory of modern Germany. This is due to the peculiarities of the climate, where the fabric could be preserved especially carefully.
Written sources
The oldest source indicating the color of Roman tunics is of non-Roman origin. This is a Samnite fresco from the tomb of Francois, discovered near the ruins of the city of Vulci. It is believed to depict an episode of the Samnite wars in 326 BC. Titus Livy (IX, 40, 2-3 and 9) writes that some Samnites consecrated themselves and put on white linen tunics, since white was considered a priestly color, but says nothing about the color of Roman tunics. In the mural, we see naked and white-robed warriors slaughtering red-tunic and bronze-breastbed warriors - Romans, or at least their Latin allies.
The next source is a fresco from the tomb of the Stacilii, depicting soldiers in red tunics. Its dating causes controversy, and in addition, it is suggested that it is a copy of an earlier work, so that it can only be attributed in general to the Republican period.
Next, we need to name the Palestrina mosaic, the dating of which is also controversial and is determined between the end of the 1st century BC and the 3rd century AD (supporters of later dating believe it is a copy of an unsaved mosaic of the Alexandrian school), but with regard to the plot depicted on it, historians agree that this is the visit of Octavian Augustus to Egypt after the battle of Actium in 31 BC.the full-flowing flood of the Nile. In the central part of the mosaic, a group of warriors is depicted near a building that is probably a temple. The central figure, in a white tunic and muscular cuirass, is considered a general (possibly Agrippa), although some historians believe that this is just a warrior in a Greek chiton, boots and armor, since the whole plot is clearly made in the Greek style; next to him is a warrior in a red tunic with a typical knot around his neck - a Roman soldier or centurion. In favor of the fact that Agrippa may be in the center, says the bluish tint of his tunic. Suetonius wrote that for the naval victories of Agrippa, Octavian granted him the right to wear the blue flag (August, 25), Appian (V, 100) writes that the blue cloak for naval victories was granted to Sextus Pompey, and Vegetius also writes about the blue color of sailors ' tunics (IV, 37). By the way, the rightmost character with a horn is considered Octavian, also dressed in the Greek manner. On the left side, we see warriors in white tunics. In any case, this mural should be treated with caution, since the soldiers in obviously Greek equipment could be copied from images of Macedonian soldiers.
The "Judgment of Solomon" fresco from Pompeii, probably from the beginning of the 1st century AD. A number of scholars consider it a copy of an earlier work of the Alexandrian school, and therefore it can depict Greek (Macedonian), and not Roman soldiers. However, it is worth noting the red and white color of the tunics of warriors.
Next up is a drawing of a warrior in a white tunic and tan cape holding a pilum from the sign of a tavern in Pompeii. A pilum with a distinctive ball in the middle indicates that this is a warrior.
Further, from the same Pompeii, the image of a warrior in a white tunic and a yellow-brown cloak, talking to a woman.
Isidore of Seville, relying on sources that have not come down to us, wrote (Early XIX, xxii, 10) that at the time when the Romans were ruled by consuls (probably during the Republican period), they had a dye called russata, known to the Greeks as phoenicea, and in the time of Isidore (7th century) known as coccina. According to him, the dye was invented by the Spartans, who used it to dye the tunics in which they went into battle, so that if they were wounded, the enemies would not notice the blood and not be inspired. This means that the dye was red in color. Isidore writes that Roman soldiers also used it. It is interesting to add that Isidore writes that this color was used only directly during the battle, and that before the battle a flag of this color was hung out in front of the general's tent. This is consistent with many descriptions of ancient sources. (Caesar, The Gallic Wars, II, 4; Caesar, the Civil Wars, III, 89; Plutarch, Pompey, 68). And the last two sources are most interesting, because they describe the beginning of the battle of Pharsalus, but Caesar writes about the red flag, and Plutarch-that the red tunic was hung out.
Quintillian (1st century AD), in his speech "For the soldier against the Tribune", describes in detail the appearance of the soldiers of Gaius Marius. He writes that they were protected by swords, hard armor, and helmets, and their helmets had crests designed to frighten their enemies, and the name Mary was written on their shields. At the end, he adds that they were dressed "in the robes of the god of war, Mars." Mars was depicted in Roman mosaics (for example, the mosaic in Villa Borghese) in a red tunic, from which it can be assumed that the soldiers of Marius were also dressed in this way.
Tacitus (History, II, 89), describing the triumph of the Emperor Vitelius in Rome in 69 AD, describes that the camp prefects, tribunes and senior centurions were dressed in shining white tunics dedicated to Vesta. From the way he emphasizes this, some historians conclude that bleached tunics may have been used specifically for holidays. The mention of "meal tunics" on the Vindolanda tablets is also cited as an argument in favor of this view.
Scraps of Vindolanda cloth. More than 50 samples were examined for the presence of dye, and only in 9% of cases the dye was identified. Of these 9%, 8% were red, and 1% one was magenta (i.e. a mixture of red and blue dye was present), 40% were white, and the remaining 51% had no pigments, or were too few to identify. It should be emphasized that the fragments of fabric were small in size and it is not known whether they were left from the tunics, and if from the tunics, then from whose. In addition, traces of the dye may have been lost due to the fact that these fragments are poorly preserved. Therefore, conclusions from this study should be drawn very carefully, all that can be said is that among those fragments on which the dye was preserved, the vast majority were red. (Taylor, 1983)
In the Gospel of Matthew, it is written that the legionaries who executed Christ wore red tunics.
Martial, in his Epigrams (book XIV, verse 129, "Red cloaks of Canusian wool"), writes that " The Romans prefer brown cloaks, and the Gauls prefer red cloaks - the color that children and soldiers like so much." It's not entirely clear if he means all the soldiers.
On the tomb of Gnaeus Musius, Aquilifer of the 14th Legion (1st century AD), there is a white dye on the tunic.
Receipts for payment of bills belonging to the legionnaire C. Messius, son of Gaius of the Fabian tribe, called up for service in Beirut, found near Massada in Israel (1st century AD). It is believed that he served in the 10th Legion, which we are reconstructing, and was a cavalryman. He paid 7 denarii for a linen tunic and an unknown amount for a white tunic made of unknown material. A linen tunic could be used both for formal occasions and because the material was more pleasant in hot climates. Here we can not help but recall the episode described by Ammianus Marcellinus (xix, 8.8), in which he and soldiers, presumably of the same 10th Legion, in the 4th century tore their linen tunics into strips to get water from a well. In general, during the excavations of Masada, a lot of linen cloth was found, but most of it probably belonged to the defenders and residents of the city, and some of it remained not from clothing at all. Linen fragments are mostly unpainted. But out of 105 wool fragments, more than half were found to contain traces of dye, among them 14 were red in different shades, from light to dark, and 6 were light blue or blue-green.
Colorants
1) Madder dye-Rubia tinctoria. It first appeared presumably in Egypt, no later than 2000 BC. e. The active substance-alizarin-extraction with hot slightly alkaline solutions from roots. Madder gives well-preserved coatings with metal oxides, slightly changing its shade.
2) Alkana dye - Alkanna tinctoria. It first appeared presumably in Egypt, no later than 3500 BC. e. The active substance-alkonite-extraction with hot slightly alkaline solutions from the roots. Iron and aluminum mordants can change shades.
1) Safflower dye-Carthamus tinctorius. It first appeared presumably in Egypt. Active substance - cartamine - extraction of dye from petals in slightly alkaline solutions. It is able to paint without mordants, but the color is not persistent.
2) Henna-Lawsonia non-prickly-Lawsonia inermis. It first appeared presumably in Egypt, no later than 3000 BC. e. The active substance-2-hydroxy-1,4 naphthoquinone-the leaves are dried, ground, and the dye is extracted in a slightly alkaline solution.
1) Saffron-Crocus Sativus. Mesopotamia (?) - circa 2000 BC Active substance-crocin-extraction with weakly alkaline solutions.
2) Reseda-Reseda luteola. Ancient Greece or Rome. The active substance is luteolin. Most likely extracted with hot water. They could be used together with alumina mordant.
3) Dye droc-Genista tinctoria. Presumably Ancient Greece. The active substance is glucosidogenysteine. It was extracted with slightly alkaline solutions or hot water.
4) Celandine - Chelidonium Majus. Presumably-Ancient Greece. The active substance is chelidonin.
1) Lichens - Rocella. Minoan civilization around 2000 BC. e. Active substance-litmus. It was extracted with slightly alkaline solutions.
2) Vida krasilnaya - Isatis tinctoria. It first appeared presumably in Egypt, no later than 2500 BC. e. The active substance is indigotine. The leaves were crushed with a small amount of water and left to ferment in tall pots for half a month.
3) Indigofera dye - Indigofera tinctoria. Presumably appeared in India, no later than 2000 BC. Indigotine. The leaves are fermented, then intensively stirring, an oxidizer is added.
1) Mollusk-Brandaris Bolinus. Phoenicia, the cities of Sidon and Tyre. Active substance-6, 6 dibromindigo. For extraction, the pulp of clams was cooked, which allowed the dye to be extracted. To increase the color intensity, the resulting mixture was left in the sun or in acidic solutions.
2) Oak worm-Coccus ilicis. One of the oldest colors, Neolithic. The active ingredient is kermesic acid. The dye is extracted with water, oxidized or slightly alkaline solutions. Pre-mordant greatly changes the color.
Related topics
Ancient Greece, Rome, The Celts, Tunic, Ancient Egypt, Socks

Gallery



Ancient Egypt



Cave of Letters