Roman Army helmets
Galea or Cassis - (Lat. Galea / Cassis) - the ancient Roman name for a helmet. In the Roman army, the helmet was one of the main items of protective equipment and was used by all combat units, such as legionaries, auxiliaries, praetorians. Usually, it was used with a cap comforter made of felt, fabric or leather.
Roman army helmets didn't protect head completely - the face was uncovered, but due to the tactics used, it wasn't a problem. The only exceptions were horsemen and parts of the banner group, whose face could be protected with a mask. The helmet was designed to protect the cheeks, crown, and back of the head, so almost all the head was protected by metal. The only parts remained unprotected by a helmet were ears and a face. In a combat stance, the back of the helmet also protected part of the neck and a back, leaving a very small area for damage.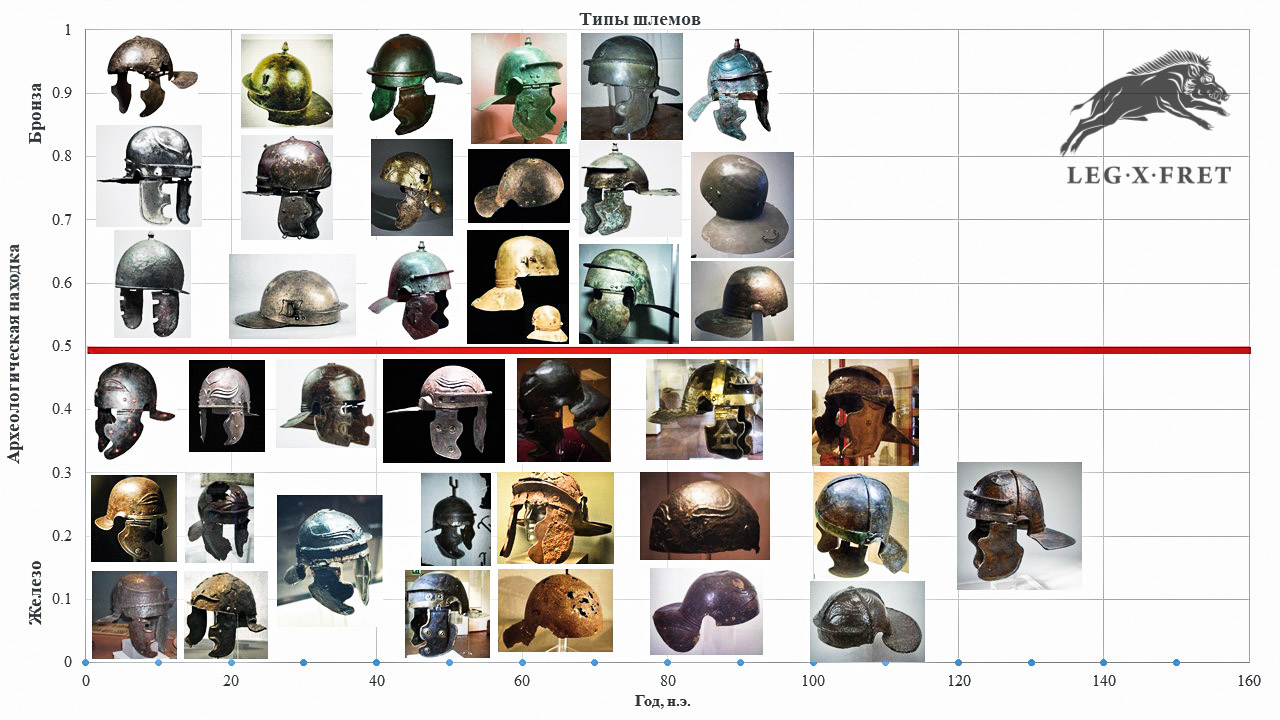 History
Almost every ancient nationality used helmets. First models of the helmets may have come into ancient roman culture because of the Celtic culture influence. Helmets, as a protective gear, were particularly widespread in Celtic culture. First Roman helmets models were almost completely copied from the Celts. The type of helmet was called "Montefortino", named because of the Celtic burial site Montefortino in northern Italy. The first models didn't have such large neck guards, and these helmets had a slightly different protective features. These helmets were commonly produced out of bronze alloys. There are different views, that the helmets could not only be made by forging, but also by casting or by combining these methods (at first they cast a blank of the helmet and then they completed the helmet by forging). Often, on the top of the helmet, there was a plume mount shaped as a small "bump", where were inserted feathers or horsehair. Montefortino was used from the 4th century BCE to the 50s CE.
Helmet in the Roman Empire
At the beginning of the principate era montefortino helmet was replaced by a new helmet type, often called imperial helmet. However, it should be noted that the replacement wasn't immediate. Montefortino helmet was used with the imperial helmet throughout the 1st century CE. Legionaries used imperial helmet in the I-III centuries CE. Also, helmets are often called after the discovery place, for example, in Germany, these helmets are known as Weisenau. Connolly, ancient historian divides the imperial helmet into two subtypes: Imperial Italic and Imperial Gallic. The main difference, which classified them, was Gallic helmets' relief waves image ("eyebrows") in front. The division is very relative, due to the findings' variety the individual helmet classification is tricky. Connolly also believes that auxiliaries used helmets similar to legionnaires', but simpler and cheaper to produce. There is also a version that worn out legionaries' equipment was put into auxiliaries service. At present preserved pictorial sources don't allow to distinguish legionary's helmets and auxiliary's helmets due to the art style.
Imperial helmets were made out of bronze and iron alloys. Moreover, iron gradually replaced bronze, which still prevailed in the 1st century CE (there are way more bronze helmets' findings). The situation changes radically by the second century CE: the vast majority of archaeological finds from the period are iron made. Imperial helmets had a dome with two cheek plates mounted on a slip joint. Usually, the helmets had rich decorations: metal ornaments, engravings, enamels, and sometimes helmets were silvered. Metal, especially iron, could be processed to be more corrosive resistant. The helmet's dome was reinforced with crosshairs, giving additional resistance against blows from above. Helmets had cap peaks for additional face protection, and neck guards for additional back and back neck protection.
Lets now look at helmet's service life. Roman army had a tradition - signing yours belongings in order to show it's yours and to prevent thefts. There are helmet findings, which have three different names. Even if we assume that not every helmet owner left the service alive, helmet's service life is still significant - about 50 years.
Crests and officer's helmets
Probably, officers used the same helmet type as legionnaires did, but with some modifications. Members of the banner group could wear it with a mask, and could fix varmint's skin on top. Centurions attached to the helmet a crosshair crest (or plume) of horsehair or feathers. In order to attach it the helmet had a "socket" for the crest holder, and two rings on the sides to fix it in lateral position. There is an option, often seen among Western reenactors, that The optiones used longitudinal crests and a pair of feathers placed on the sides, but there is no archaeological evidence for this. There is only a find of an imperial helmet with inserts on the sides, but were they used for feathers, or wether it was optio's helmet is highly questionable.
The idea, that helmets had crests comes from a helmet found with a with black horsehair crest. There are also a lot of "forks" findings, which are designed to be attached to different helmets. If it was centurion's helmet, crests were tightly laced to the side rings, placed near ear holes, or placed on the forehead and on the back of the neck if the crest was placed longitudinally. Legates and praetorians could also have longitudinally placed crests, and could have the plume inserted into a special groove, in a similar way to a"cassette".
Reenactment
Most helmets are suitable for both legionnaires and auxiliaries. The most important thing is to accurately choose reenactment period. As there is information that the helmets could change owners several times, the helmet's use period could exceed 50 years! This means that for reenacting early second century one can use earlier helmets, but not vice versa - one can't use later helmets for reenacting earlier periods. There are to approaches to helmets' production in reenactment - first one is authentic solid-drawn and a wielded with an appropriate stylization. The last option is cheaper and advisable for the beginners, it is also recommended to begin with the most simple and cheapest helmet type for example imperial Italic J1. Later, you can strive for more interesting and solid-drawn helmets.
Similar topics
Legionnary, Auxiliary, Centurion, Vexillarius, Praetorian, The Celts, Optio
Literature
Коннолли, Питер. Греция и Рим. Энциклопедия военной истории. — М.: ЭКСМО-Пресс, 2001. — ISBN 5-04-005183-2.

Early to mid first century



Mid to late first century



Early to mid second century