Samnite women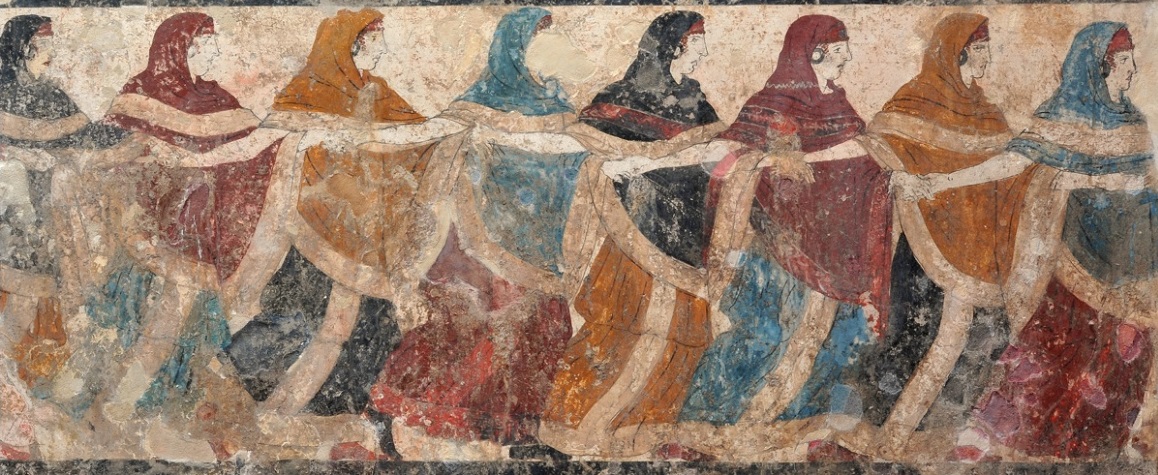 A painted slab depicting a funeral dance from Ruvo (Tomb of the Dancers). Inv. No. 9357. 5-4 century BC
The Samnites are an ancient Italian people, whose women, like men, were a combination of Greek and Italian cultures in terms of material culture. This is primarily due to the geographical location-the south of the Italian Peninsula. The main evidence of the Samnite material culture dates back to the 5th-3rd centuries BC, due to the weakening of the foreign policy of ancient Greece.Etruria, before the Samnite conquest by the Romans.
The main differences between fashion in women's clothing from Roman and Greek are mainly reflected in the patterns on fabrics and hats. It was the Samnites who actively used various types of shawls and turban-shaped hats. Also, most likely, unlike Greek and Roman women, they could actively dye their fabrics, and not just embroider various patterns.
Tunics (tunics), as well as Samnite men , were different in type and degree of Greco-Italian influence. There were also women's tunics in the usual Greek style with appropriate drapery, and closer to the Roman tunics. They were also worn in different ways. There are both closed versions, and with an open one breast. Also, sometimes they just wore a raincoat without covering the chest at all.
The hair of Samnites is depicted as a rule branching, and even in the case of a headdress, the visible curls have a lush shape. Sometimes there are completely loose hair, but mostly they were collected in a small bun on the back of the head or attached with hats or alternative devices. A small number of images show traces of cosmetics, in particular - white and blush, similar to the one used by Roman women.
The ornaments were the simplest form according to iso. As a rule, these were earrings, necklaces or ring bracelets. Most of the finds are bronze, but most likely gold was also actively used.
Women's clothing
Samnite women's clothing:
Decorating:
Reconstruction
For a better understanding of the integrity of the Samnite image, the easiest way is to take the image of an ancient Greek girl as a basis . There are practically no archaeological finds on the Samnites, and one should rely on pictorial sources. You can also use them to recreate the simplest stylized earrings, necklaces, and bracelets. As a fabric , it is best to use linen or fine wool of plain weave. As the main element of the kit, adding original Samnite elements, you should take a female headdress, as well as add Samnite patterns to clothing. Shoes should also be reproduced according to ISO, it is possible to rely in stylizations on Greek and Roman analogues.
Related topics
Samnites-literature, Samnite Warrior, Samnite Wars, Women in Ancient Greece, Women in Ancient Rome, Fabrics in antiquity
Literature
The samnite womans appearance. 1995
Collection of vase paintings with Samnite themes

Gallery



Samnite archaeological non-military finds