Equites-riders
Equites or horsemen (Latin: equites) — a type of cavalry in ancient Rome, whose employees were recruited from the citizens of Rome. Later it also became known as one of the privileged estates in the Roman state. The name comes from the Latin word equus, which means "horse".
Initially, in the tsarist era and in the early republican period, the Equites were the noble strata of society who fought on horseback. The average Roman citizen couldn't afford a horse. According to the reform of Servius Tullius (6th century BC), equites began to be allocated in 18 centuries, which formed part of the highest qualification category of Roman citizens.
Subsequently, due to the formation of the nobility in Rome (3rd century BC), the Equites became the second most privileged class after the senators. With the development of trade and usury, owners of large workshops, usurers, and simply rich and influential citizens of Rome began to enter the category of equites (according to the qualification).
In the 20s of the 2nd century BC, the Equites finally formed a special class of Roman society - a rich and influential aristocracy, whose material base was the possession of large monetary funds and movable property. The usual activities of the Equites were trading and paying taxes from the provinces. They often held high administrative positions. Although the political influence of the Equites was less significant than that of the senators, they had huge amounts of capital in their hands.
Equites were also a type of gladiator in ancient Rome. Equites-gladiators).
Equipment
Due to their wealth, the riders could afford the most colorful and high-quality equipment. It was richly decorated with coinage, gilding and silver. The equipment, unlike the legionary ones, was modified for combat on horseback. Helmets had a smaller back part, and as a sword, not a short stabbing gladius was used , but long spats for chopping blows.
The rider's equipment for the period of 1-2 centuries AD could consist of the following elements::
Equestrian equipment:
Fabric / Leather products:
Protective equipment items based on metal:
Weapons items:
Additional elements: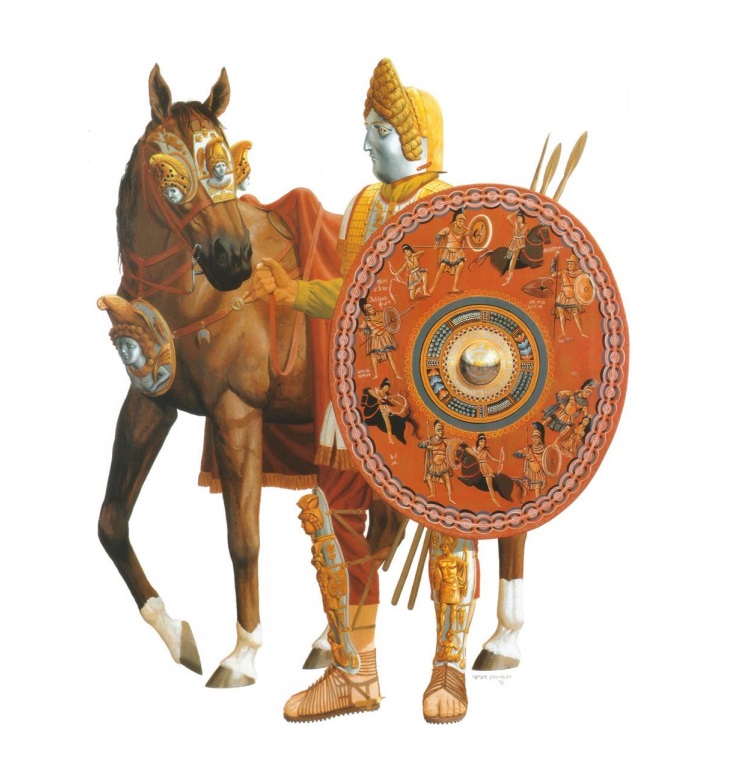 Illustration from the book Evidence for horse armour in the Roman Army
Reconstruction
The image of a horseman is one of the most expensive and difficult to reconstruct. It is recommended to start with an auxiliary rider who also fought on horseback, but had simpler and cheaper equipment. You should start with a minimal set of tunics, belts, and shoes. After that, already having a horse, start selecting equipment for him, making a saddle and a team. It should be noted that the Romans did not have stirrups, which requires additional skills from the future rider.
Related topics
Roman equestrian equipment, Disguise, Ala, The Senator, Auxiliary-horseman
Literature
Evidence for horse armour in the Roman Army - Sebastian Schuckelt.pdf

Gallery